19 Line
A downloadable game for Windows and macOS
19 LINE
A HORROR VISUAL NOVEL by Nico Saraintaris, Octavio Saraintaris & MakeRenders (Augusto Saraintaris + Francisco Araujo)
(Made in 72 hours for #INKJAM20. Game was originally written in Spanish. Thanks María Laura Campos for the English translation!)
Synopsis
Deep below the surface, there's an annual night procession through dark, ancient tunnels. These tunnels are supposed to be older than the colonization of the Americas, and they cross a segment of the 19 Line. Subway drivers from the 19 know they must never stop, especially on the night of the procession.
You believe you have the moral high ground... But you drive a train 83 feet below the surface!
Features
Branching narrative with seven different endings.
Dark and gripping storytelling.
Gorgeous art by MakeRenders.
Original OST.
Quotes
"The lore of what's going on in the tunnels is very intriguing and the game does a great job of building a dark, dread-filled atmosphere. A tense train-based horror adventure well worth catching." (Alpha Beta Gamer)
"A visual novel adventure with fantastic animation and great writing." (Dread XP)
Press Kit
Platforms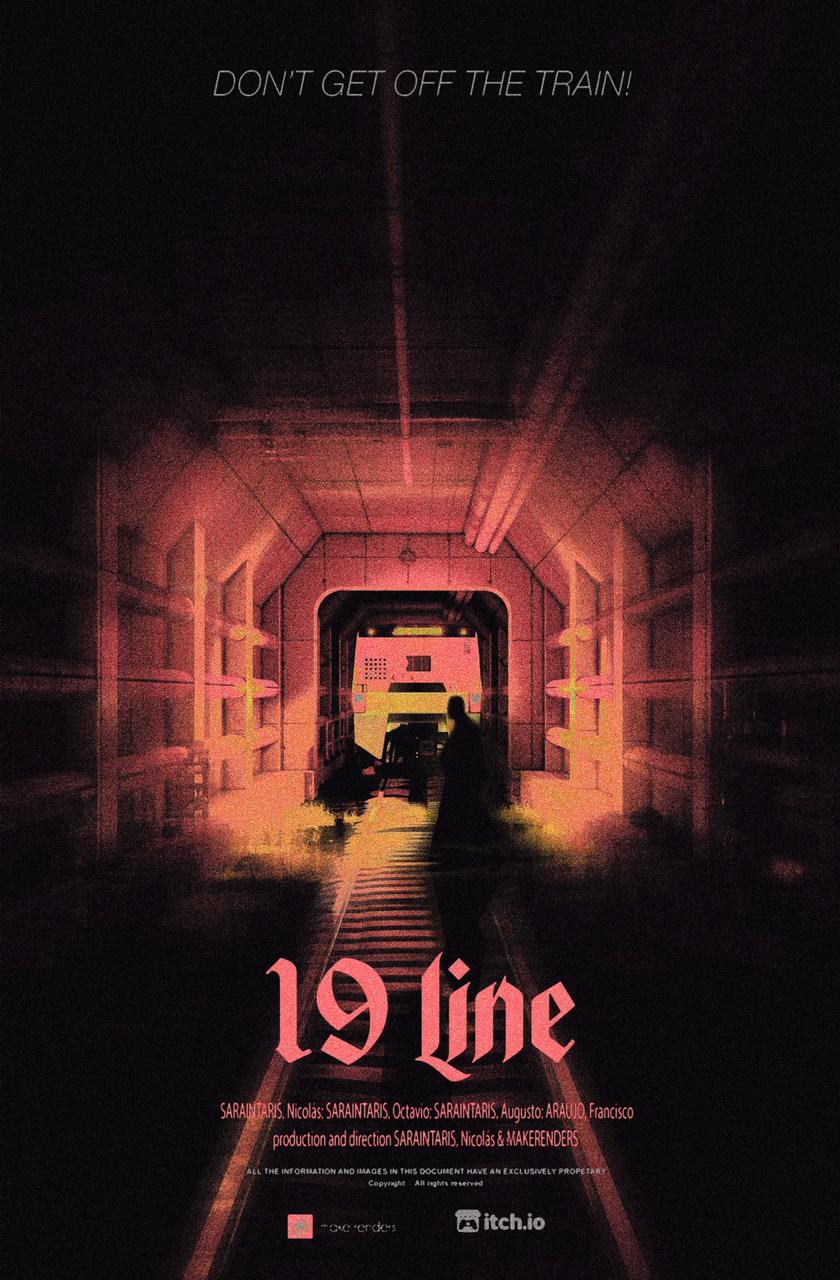 Download
Click download now to get access to the following files:
19Line_Windows.zip
125 MB
Comments
Log in with itch.io to leave a comment.
An interesting game. Loved the idea.
genial! lo voy a probar en nuestro canal de twitch "nerdomancers" uno de estos días. bien ahi los juegos argentinos!!
Interesting game I liked what you got here but would like more explanation on what happened. But I will say please make more of this style of game maybe have more horror happen on the screen besides reading about it. But otherwise its a great game keep creating.
We'll continue making games like this! (We're currently working on The Whistling House, link and more info in my profile). Thanks for making the video, already subscribed to your channel.
Cheers!
Aren't you planning on putting the game somewhere else? With fixed prices, it's easier for me to buy.
We love itch.io, so it's our go-to option for our free horror visual novels. If we make larger, more complex ones in the future and we decide on selling them, we'll have'em both here and on Steam.
BTW, in case anyone want to help us with some coffee money, we have a ko-fi account set up (still figuring it out what to offer there... scoops? Original content? Wips?).
Cheers and thanks for the support!
Okay, I'll wait for the English version!
English version in already up!